What's the idol secret to beautiful skin?
The idols generally have incredible skin, clearly showing the famous Korean-style "glass skin".
We can tell ourselves that as celebrities they have the means to get the best care and treatment, but they certainly also have secrets for us all to follow!
In an episode of "Comment Defenders" on YouTube channel AYO, dermatologists Chan Woo and Jeong Seon Mi answered questions about idols and their skin.
One netizen cited NCT's Jaehyun as an example of an idol with amazing skin.
"NCT Jaehyun's skin is white but quite pink. He said he never had acne so I'm jealous. You should just be born with male idol skin, right? » – Internet users
Chan Woo revealed that DNA definitely plays a role, but so does maintaining good hygiene.
"Of course it matters what you were born with, but it's more important to constantly take care of it. »
Jeong Seon Mi added that there are idols who don't need many skin treatments, but there are also idols who do.
"Some people are really born with it, so some idols have really great skin with just reconditioning blisters or skin treatments. Some idols have skin scarred even with makeup because they are covered in acne. »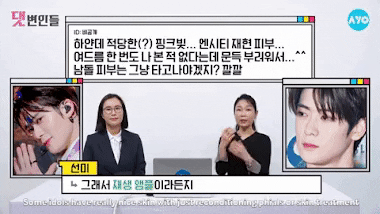 The idols don't have any special treatment, despite the ideas that you can make.
"There is no special treatment for idols. We give ordinary people the same treatments. »
Chan Woo revealed the secret behind the idol skin. And as you can imagine, it's all about the money.
"The secret is… you have to spend as much as the idols. Idols spend a lot more than you think. Everyone is born with different skin, but taking care of your skin will only get better, just like your grades will improve if you study hard. »
In fact, the price of skin treatments is quite impressive. Male idols, for example, tend to see a dermatologist twice a week.
Some idols even go there more often depending on the needs of their skin.
You therefore spend a lot of time and money for such a result!