Videos reveal SinB's condition after losing friend MoonBin, singer writes final letter
Some videos from VIVIZ's performance in the United States showed SinB struggling to get on stage and in his poor condition after losing his close friend MoonBin.
In a video of the performance of the ai group "We Bridge Music Festival & Expo 2023", the members performed the happy and exciting song "PULL UP".
SinB, Umji and Eunha dressed in black and white and left the stage with supporting dancers to cheers from the fans. SinB usually performs with overflowing energy and radiant expression.
However, on this stage, fans noticed that SinB showed a sad expression right at the beginning of the performance.
SinB sometimes struggled to express herself due to the inability to observe fans or cameras during her performance.
It is said that "PULL UP" was the last song SinB and MoonBin danced to before his sudden death as a challenge on TikTok. They were part of the same group of friends that includes those born into the music industry in 1998.
Halfway through the performance, SinB kept his head down and appeared to be struggling onstage. She fixed her gaze on the floor and went straight backstage at the end of the performance.
After her first performance, SinB immediately walked off the stage looking like she was having too much trouble pretending everything was fine.
Umji and Eunha continued the performance as if nothing had happened but wore worried expressions on their faces.
VIVIZ tried to stay professional by playing with as much energy and enthusiasm as possible, but they sure couldn't smile sincerely, that was easy to see.
As they continued the conversation, SinB just stood next to them and seemed a bit absent-minded.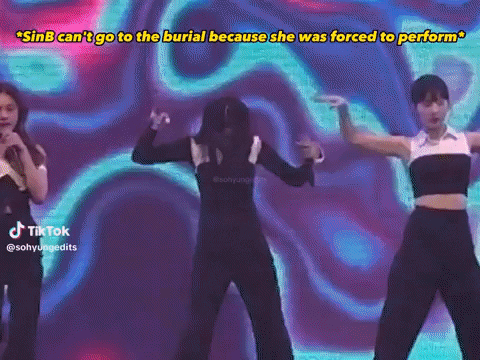 Finally Umji came down from the stage and said: "If you give me a moment, can I organize myself right away?" » After a while, VIVIZ regrouped and then finished the entire performance, including SinB.
As fans watched her perform and listened to her talk, their hearts broke.
People who saw the video commented: "Oh my god… She must have had a hard time performing like that," "Being a celebrity is such a tough job," "I'm so sorry for you," and "I encourage the 98 line, but I do hurt even more when I see the video".
SinB and Umji previously canceled the Grammys Museum interview and other red carpet appearances due to health concerns. At the Hi-Touch event the day after the performance, SinB and Umji had to cancel due to health reasons. Only Eunha was present to meet the fans.
Recently, VIVIZ's agency, BPM Entertainment, released an announcement after being criticized by fans for maintaining VIVIZ's schedule despite Moonbin's news:
"Due to the poor health of VIVIZ members, we have decided to cancel [la participation de VIVIZ] at the SBS Culttwo Show Power Concert on April 29th. We will do our best to help our artists recover quickly. »
On April 27th SinB wrote a final letter to Moonbin, the letter reads:
"Bin-ah, it's me, Eunbi. how is it over there Is it filled with the things you like? I really hope that's the case. We've known each other for so long, haven't we? Ever since we were kids.
But even though I've known you for 18 years, there were still times I felt shy and testy around you.
I am very sorry that I cannot say nice words to you. I regret things, I'm sad, I remember things and I'm sorry, all for a while.
JI think I spent the whole day thinking about you too. I can imagine you being up there thinking it's not usual for me to behave like this, sighing and going, "Uh, why is she like that?" So please bear with me! There are so many words I want to say, but I'll take my time and tell you little by little.
Bin-ah, like you always asked me, I'll take care of Sua and your parents. So don't worry about anything and just live for your own happiness.
I have been so happy and so reassured to be with you since we were children, in our youth and in our twenties. I thought I would grow old with you until we became grandfather and grandmother.
But I'll be the only one growing old now it seems. Watch me grow old from up there, laugh at me and tease me all you want! Later, when we meet again, we fight and fight as we please.
Bin-ah, you have been a precious and reliable friend to me and have become a strength for me simply by existing as you were. I'm sorry to only tell you now. When someone asks me who my closest friend was, I have no hesitation in saying, as I do now, it's you!
My pride, the cool Bin, you are so precious! I will come visit you often. Rest in peace. I am so sorry and sorry again. Know that I love you ! Thanks and I love you brat. »