Vanner explains how idol contests put a financial drain on small business bands
While many kpop groups are hugely popular and have fans around the world, some have had greater difficulty gaining recognition despite their talent.
These groups, dubbed "nugu," often have no choice but to do odd jobs alongside their idol jobs.
Recently, the survival show Peak Time gave these groups, including the group VANNER, a chance.
In a recent interview, the band opened up about their financial struggles since their debut in 2019.
They explained that they worked odd jobs while preparing for the show as they needed to make ends meet. They got up early so they could all train together.
Like other lesser-known idols, they haven't sold enough albums to deserve compensation for the work done.
"We had no profit [de notre album que nous avons sorti en février
dernier]. That's why we started our part-time jobs.
In fact, we don't want tons of money. We only need the basic expenses: money for transportation, money for groceries…then we can do what we love, which is perform. »
Several times they thought about giving up their dream of becoming an idol in order to do something that makes life possible for them.
However, they didn't give up.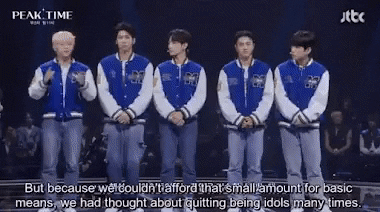 They even had the impression that they were becoming "an increasing burden" for their relatives.
"There was a time when I almost gave up my career as an artist. It was then that I saw my mother struggling financially and supporting me on her own after my father died.
I felt like I was becoming more and more of a burden to them. But then I thought I better not waste all my time as an artist so as not to disappoint her. » – Taehwan
They even had to do their own make-up and dress before the show as their agency couldn't support them.
"Before we performed on the show, our agency was not financially able to have staff to help us, so I had to do some extra business work. We also had to do our own makeup and hair. » – Taehwan
However, Peak Time gave them an opportunity to switch agencies and they are better supported now.
We wish them all the best for the future!