Park Seo Joon draws attention to his chivalry towards IU
IU and Park Seo Joon have collaborated on the movie Dream, which will be released in late April.
On April 17, the show's cast held a special press conference, and unsurprisingly, IU and Park Seo Joon looked stunning in their outfits.
Park Seo Joon is known to be a true gentleman and he has proven it once again with IU.
As the actors entered and prepared to sit down, Park Seo Joon stood in front of IU and pulled out the young woman's chair to help her.
He did it so subtly that IU didn't even seem to notice, attempting to pull the chair out herself before realizing he was already done.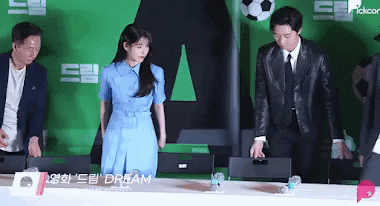 After watching the video, netizens couldn't help but praise the actor for his gallant demeanor.
seojoon prioritizes the place of iu above all other iktr! pic.twitter.com/3GYW8kicmI

— ⚽️ (@psjxiu) April 17, 2023
On the other hand, "Dream" tells the story of a group of people playing soccer for the Homeless World Cup for the first time.
Park Seo Joon plays Yoon Hong Dae, a probationary soccer player who becomes the coach of the ragtag soccer team, while IU plays executive producer Lee So Min, who is making a documentary about the crew.
will you watch this movie