MS Glow Raised 28 People For Umrah with Larissa Chou & Mawar Dimas
stylediacreativo.com
—
Skincare company MS GLOW has sent 28 skin care professionals, including employees, to perform Umrah to the Holy Land.
The group brought by Umrah are the winners of the Umrah Contest Part 2 of the Umrah Resources program, and prominent employees from J99 Corp, the parent company of MS GLOW, and Mawar Dimas and Larissa Chou as ambassadors.
"MS GLOW Umrah Surprise Blessing program is a form of gratitude to our loyal MS GLOW users and we are holding it in 3 waves. For those who are not lucky in 1 wave and 2, there is still a chance to enter. 3rd wave of lottery," said Shandy Purnamasari, founder of MS GLOW, Monday (29/8).
The second batch of MS GLOW Umrah Surprise Blessings was held live via the @msGlowbeauty Instagram page on July 25, 2022 and was attended by Mawar Dimas and Larissa Chou. The participants of the election are those who submitted the application form during the period from May 21 to July 21, 2022.
Mawar said this is the first umrah. He also invited his mother to the holy land.
"In addition to preparing all other documents and health needs, I also prepare it carefully so that this Umrah will be easy and bring blessings," said Mawar.
Unlike Mawar, Larissa invited her beloved son, Yusuf, to tell the story of worship in the Holy Land.
Larissa explained that "Alhamdulillah, this is my third experience in the Holy Land. But this time it will be something different because this time I will be able to go to the Holy Land with Yusuf."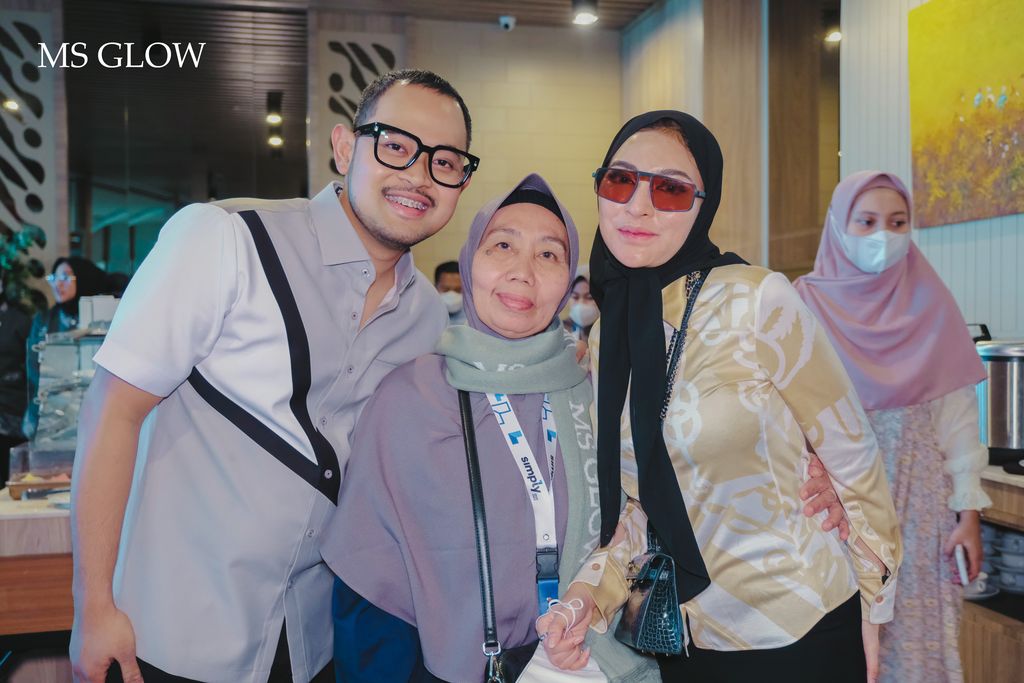 Supini (centre), one of the winners of the MS GLOW Umrah Surprise Blessing program with Gilang Juragan 99 and founder of MS GLOW Sandhy Purnamasari. (Photo: MS Glow Archives).
Currently, there is an interesting story in the program MS GLOW Surprise Blessings of Umrah this time, where there was a winner who is not a Muslim, but he registered because he wants to send a domestic helper (ART) he would have worked for him. many years.
"At first I thought I'm not a Muslim, right? But I remember, yes, there is Ms. Pini (Ms. Supini, ART). Well, finally I was happy to register Madam Pini. Well, it turned out that I won," said Gledis Claudia, one of the Umrah winners from Semarang who registered with Supini to go to Umrah.
Supini himself admitted that he was very happy with this Umrah ritual. He thanked Gledis for his willingness to participate in the scholarship program from MS GLOW so that he could successfully perform Umrah.
"However, I can't say anything. I am very grateful to those who are not Gledisu, because this Umrah has been my journey of prayer so far, and Alhamdulillah I have been answered." said Supini.
Please note, after the success of the 2nd phase, the 3rd phase of the MS GLOW Umrah Miracle Program started on August 6th and will close on October 6th, 2022. To enter the competition, people only need to buy MS. GLOW is a product that has a QR code on the packaging. . For more information, please visit the official website msgloid.com.
(osc)


[Gambas:Video CNN]