Maros Pangkep Geopark in South Sulawesi Officially Joins UNESCO Global Geopark
stylediacreativo.com
—
UNESCO officially enter the area Geopark Maros Pangkep in South Sulawesi UNESCO Global Park (UGG). The decision was taken after the council meeting UNESCO Global Geopark in Thailand.
The management board of Maros Pangkep Geopark also received the decision from UNESCO on Monday (5/9/2022) via email. The General Manager of the Management Board, Geopark Maros Pangkep, Dedy Irfan, is grateful that the expectations of the Indonesian people, especially South Sulawesi, can be met.
"Alhamdulillah, at the meeting of the UGG council, it was decided to accept the application for Maros Pangkep Geopark as a UNESCO Global Geopark," said Dedy Irfan as reported by Antara. Between.
According to him, the community is working side by side, so that Maros Pangkep Geopark meets the requirements of UNESCO international institutions. An official announcement from UNESCO itself will be made in the near future.
With the status of being in the UNESCO World Park, it is believed that the maintenance of Maros Pangkep Geopark will increase and make this area a world tourist destination.
The Government of Maros Regency, South Sulawesi through its Vice President, Suhartina Bohari, said that the tourism sector and community empowerment will be a concern so that the Maros Pangkep Geopark still meets the criteria of UNESCO.
UNESCO accreditation will have a major impact on the sustainable conservation potential of the Maros-Pangkep Geopark. At the same time as an effective tool to increase the interest of tourists, not only domestic but also foreign.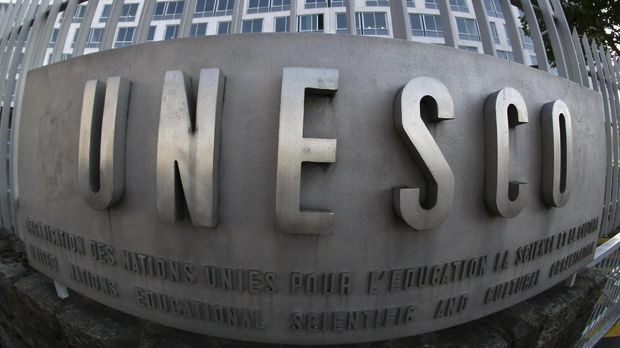 UNESCO. (Photo: PHOTO AFP / JOEL SAGET)
Maros Region – Pangkep National Geopark (GNMP) / Maros Pangkep candidate for Unesco Global Geopark (MPAUGGp) consists of 2 districts, namely Maros Regency and Pangkajene Island System, which officially includes a land area of ​​223,629 ha and Spermonde Island. with an area of ​​88,965 hectares.
Maros Pangkep Karst is one of the most valuable karst in the world which is beautiful, unique, flora and fauna, great science and culture.
Maros-Pangkep Geopark which received national status in 2017 is the 2nd largest karst area after South China.
Karst Maros Pangkep has hundreds of caves that were inhabited by prehistoric people. The culture of the past is illustrated by artefacts dating back more than 40 thousand years. It is also home to millions of species of butterflies that have earned the nickname "Kingdom of Butterflies".
As a park, there are many sustainable tourism-based activities in Maros-Pangkep. Starting from the geosite, biological site, and cultural site.
(ie/mother)


[Gambas:Video CNN]