Journalist catches ARMY's attention for being a true Jimin fan
The BTS members are on a group break, but they're all very busy individually.
On March 13 Jimin flew to New York where he has a private appointment.
As expected, upon arrival at Incheon Airport, the idol greeted the fans and media in attendance in the most polite and endearing manner.
Jimin was simply adorable and had the aura of a real star who enchanted everyone at the airport.
Surprisingly, although Jimin drew attention, one person who stole the hearts of netizens at Incheon Airport was a Star Pic reporter. While all the media reported on Jimin's arrival before his performance, Star Pic was at the airport for almost five hours.
Many journalists happen to be fans of certain idols, and sometimes fans are shown moments of this love.
And it seemed obvious that Star Pic is an ARMY!
During the Star Pic's live broadcast, after more than 3.5 hours of streaming, fans were surprised when a photo of Jimin suddenly popped into the recording as he exclaimed, "FACE! »
He said this because concept photos were recently released ahead of Jimin's Face album.
The reporter amused the fans by moving the photo in front of the camera with the adorable voice effects.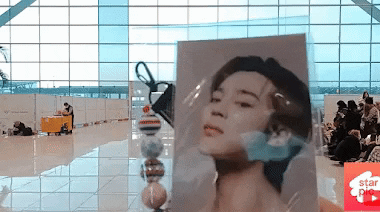 Showing his true love for the idol, the photographer added, "Waiting for Jimiiin."
He then pulled out another concept photo, which he showed to the camera.
But that was not all! The reporter also had an adorable Jimin keychain that he showed off to fans on camera.
As the videos were shared online, netizens couldn't forget the reporter's actions and liked how he shared his love for Jimin, just like other fans at Incheon Airport.
Cameraman/Reporter showing off his Jimin merch while waiting at the airport 😭😭 pic.twitter.com/bbyfkgeZ06

— prod jm – FACE of JIMIN (@jmnpromise) March 13, 2023
this cameraman/reporter is so excited about jimin bye 😭😭 pic.twitter.com/k0miR9S6sI

— prod jm – FACE of JIMIN (@jmnpromise) March 13, 2023
We love this kind of adorable moment!