In order not to be streaky, do you need to use SPF sunscreen for your lips?
stylediacreativo.com
—
Many people already know the importance of use sunscreen to avoid the effects of UV rays. But what about the lips? Do you need SPF for lips?
However, according to one study, about 63 percent of sunscreen users lack protection in the lip area. Why is it important to use SPF on the lips?
In fact, the lip area is also not immune to the threat of skin cancer due to exposure to ultraviolet (UV) light.
It is very important to provide UV protection for your lips, especially when you are in hot weather and exposed to direct sunlight.
Lips should be treated like the face, but due to the rapid drying of our lips, it is better to apply lip balm or lip care that contains SPF in the lips regularly to get full protection.
Based on different sources, here are the reasons why you need to use SPF for lips.
1. Cancer of the skin on the lips
According to dermatologist Elizabeth Tanzi, SPF has an important role for lips because lips are an area that causes skin cancer, reports Allure.
The lip area is also said to be prone to skin cancers such as squamous cell carcinoma (SCC). This type of skin cancer is caused by excessive exposure to direct sunlight and is the second most common form of skin cancer.
Protecting your lips with SPF also has the added benefit of protecting your lips from UV rays, which can help improve redness, chapped lips and other problems.
If you use a lip balm, make sure the product contains SPF to keep your lips healthy even when you're working out in the sun.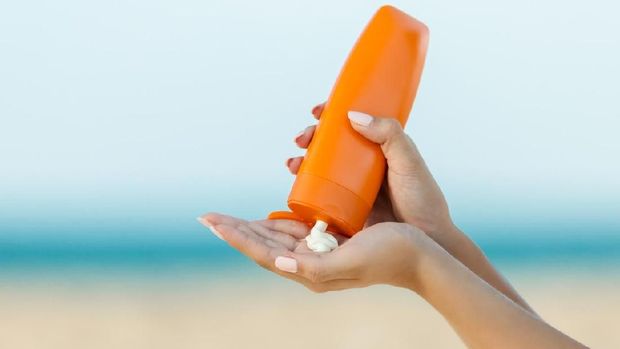 Photo: Istockphoto/bymuratdeniz
photo of sunscreen
2. Burning the skin of the lips
Dermatologists warn that wearing lip products without SPF won't help protect lips to look healthy. Conversely, lip products without SPF can be more harmful to the skin than not wearing them, reports the Daily Mail.
Few people realize that lip gloss can actually absorb sunlight and increase the risk of lip burns. On the other hand, SPF balm can block the sun and protect your lips.
3. Aging on the lips
Sunburn and the potential damage it causes is not the only risk of using lip products without SPF.
Aside from the health concerns, dermatologists also warn that lips can age faster with sun exposure and sun damage.
Lips lose their volume and definition over time, which is even more apparent if you have a lot of sun exposure and sun damage. Protecting your lips with an SPF lip balm is one way to keep your lips beautiful, strong, and young.
4. Black lips
Applying SPF on your lips can also help prevent discoloration on your lips, which can make them look darker.
According to Healthline, dark lips can be the result of hyperpigmentation, a condition that occurs due to excess melanin. Excessive sun exposure is one of the causes of hyperpigmentation.
Therefore, using a lip balm or other lip care that contains SPF is very important, especially since we live in a hot country, so don't forget SPF for lips.
(del/chs)


[Gambas:Video CNN]