Find out what is hidden in the Fatahullah Museum in the Old City
stylediacreativo.com
—
Jakarta History Museum or otherwise known as Fatahullah Museum save history The old town whole. In fact, there are secret and hidden things that are kept in the museum of Fatahullah.
The Fatahillah Museum is a Dutch-style building that was built between 1707 and 1712. The building and architecture are said to be similar to the Dam Palace in Amsterdam, the Netherlands.
The location of this museum is located in Kota Tua area, West Jakarta. It is not difficult to find the museum of Fatahillah, because its location is in front of the court of the old town.
If you visit the historical house of Fatahillah, when you enter you will see many rooms that have their names. The rooms in the Fatahillah Museum include Jayakarta Room, Sultan Agung Room, Fatahillah Room, MH Thamrin Room, Jakarta Prehistoric Room, and Tarumanegara Room.
At the Fatahillah Museum you can see things from the history of Kota Tua such as copies and archeology of the Tarumanegara and Pajajaran kingdoms, traditional artifacts from the 17th century to the 19th century with European, Chinese, and Indonesia.
However, it is not like that, there is a room in this museum, where there is an unfinished painting of a mysterious giant. The painting is the work of the artist Harijadi in the 1970s.
This painting was made based on the efforts of the governor of DKI Jakarta at the time, Ali Sadikin, to explain the life of Jakarta in the past. This huge painting shows some of the great food items of the past along with the ethnic diversity of that era.
The reason why the painting was not finished was because the building of the museum near the port at the time prevented the painting from standing, so the work took a very long time.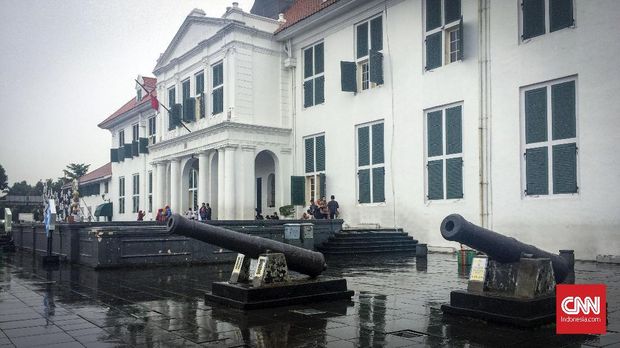 Fatahillah Museum or Jakarta History Museum. (Photo: CNN Indonesia/Rebeca Joy Limardjo)
In addition to the large unfinished painting, there is also a hidden one inside Fatahullah Museum, which is underground. After the wealth and historical value in this museum, there is a very dark past in this place.
The old prison room is located behind the Fatahillah museum, which was used during the Dutch colonial period. Also found in the room were iron balls that used to be tied to the feet of the prison.
There is no light at all in the prison cell. In addition, the air was full of moisture, which made those inside panic.
If you are interested in seeing the secret things and rooms in the Fatahullah Museum, you can visit it on weekends. The museum opens at 8.00 WIB and closes at 15.00 WIB. The entrance ticket is cheap, only Rp. 2,000 to Rp. 5,000.
(ie/mother)


[Gambas:Video CNN]