Enjoy Makassar Straits from Swiss-Belhotel Balikpapan
stylediacreativo.com
—
Balikpapan, apart from being the largest oil producing city in Indonesia, is also planning to become the country's capital city (IKN) of the island. Balikpapan is considered not only suitable for the status of a business city, but also a place for tourism and exploring the beautiful natural attractions.
Swiss-Belhotel Balikpapan is located in a prime location. Right on the side of Makassar Strait so it has a sea view, only 15 minutes from Sultan Aji Muhammad Sulaiman Airport, Sepinggan Balikpapan, 30 minutes to Balikpapan-Samarinda gate, 10 minutes to Kemala Beach and only 15 minutes to Melawai Beach. .
"Swiss-Belhotel Balikpapan is a 4-star hotel that provides international accommodation and meeting facilities in the city of Balikpapan," said Iwan Kurniawan, General Manager of Swiss-Belhotel Balikpapan.
"With an important location on the side of the Makassar Strait and the provision of many rooms, which makes this hotel suitable for guests who want to have a vacation or do business in this city," he said.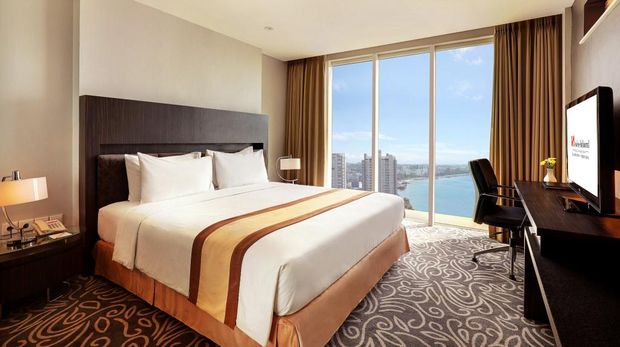 Swiss-Belhotel Balikpapan which has a sea view of the Makassar Strait. (Photo: Swiss-Belhotel Archives).
This hotel is a business hotel and it is one of the hotels with large meeting facilities in Balikpapan.
With this location, Swiss-Belhotel Balikpapan is the perfect choice for hosting medium-sized social events, to large corporate events. Not to mention its prime location in the city, close to government institutions, beaches and shopping areas.
Swiss-Belhotel Balikpapan has 235 rooms consisting of Deluxe, Superior Deluxe, Executive Suite, Business Suite, Apartment to Presidential Suite with different room sizes, from 30m2 to 119m2.
Each room is equipped with full international standards and is available with a choice of Balikpapan cityscape or views to the sea. For rooms with the type of Executive Suite and above, in addition to furniture, they also have a living room and dining room with a small refrigerator, and a balcony facing the sea directly.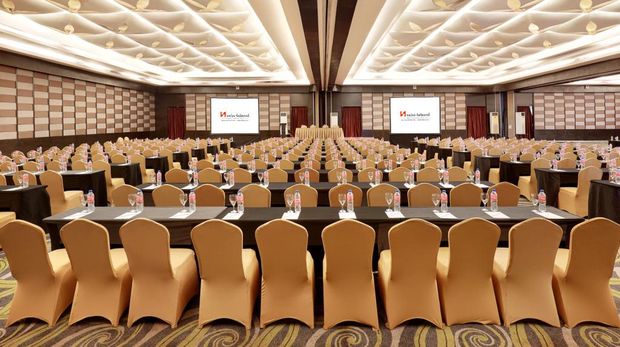 Swiss-Belhotel Balikpapan has a spacious ballroom that can accommodate up to 1,800 guests, which can accommodate business needs and organize meetings, seminars, and wedding receptions. (Photo: Swiss-Belhotel Archives)
To accommodate business needs and organize various events from meetings, product launches, seminars, birthdays, graduations, to wedding receptions and gala receptions, Swiss-Belhotel Balikpapan offers conference rooms. six and a ballroom that can accommodate 15 to 1,800 guests.
All rooms are equipped with the latest audiovisual equipment, high-speed internet access and various special menu options that can be customized to the taste and needs of the organizers.
To complete an unforgettable experience at Swiss-Belhotel Balikpapan, this hotel is equipped with various facilities including; three restaurants – Swiss-CafeTM, Barito Lounge, and The Patio pool Side Café, Fitness center and spa located on the 2nd floor, to Kids Corner located in the campus.
(osc)