Complaints about Canggu: Noise Pollution, Caucasians, Drunk Activities, and Dirty Water
stylediacreativo.com
—
A petition entitled 'Elimination of Noise Pollution in Change' on Change.org is getting attention. As of Monday (12/9/2022) at 11.00 WIB, 6,859 people have signed the petition.
The plaintiff is P Dian, who objected to the noise of bars and clubs in Canggu, Bali. According to him, the noise lasts until 4 am.
In the petition, he claimed to represent the Balinese and especially those of us who work and live in Canggu. P Dian said that the residents of the area cannot rest or sleep at night, because the sound of music from the bar or the club makes the windows and doors shake.
He also questioned how bars and clubs did not pay attention even though they were repeatedly reprimanded by Satpol PP, because of the noise that bothers the residents of the town until the morning.
In the petition, P Dian also submitted an open letter to officials such as President Joko Widodo, Minister of Tourism and Economy Sandiaga Uno, Governor of Bali, I Wayan Koster, and Regent of Badung Regency I Nyoman Giri Prasta, President of Bali Province. Satpol PP Dewa Dewa. Nyoman Rai Dharmadi, and even PDIP Chief Executive Megawati Soekarno Putri.
"It is definitely not a government strategy to attack Bali, which has a high value for cheap tourists who come for pleasure, because in their country they are obviously not given the same fuss as they do on the island of Bali. . The money that the government gets from this cheap tour while destroying Bali's reputation in the world is definitely not worth the loss of income from local hotels because thousands of people who leave do not want to live in Canggu. and they don't want to go to Bali anymore,' he wrote in the petition.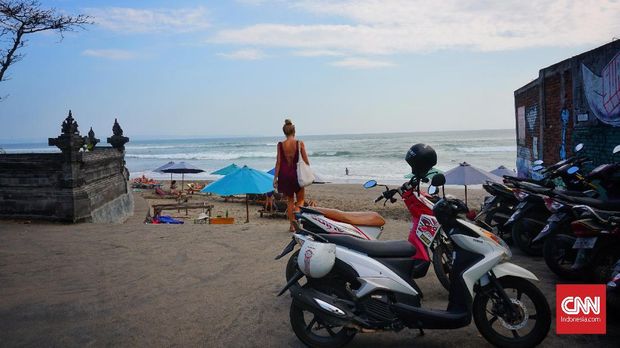 Weather in Canggu, Bali. (Photo: CNN Indonesia)
In addition, he was also surprised by the location of the club Change near the temple, even the sacred temples like the Kahyangan Temple. He said that tourists who are drunk after returning home from a concert, he said, also cause problems including fighting, running, and causing accidents that kill the victims.
He also argued that some bars standing in this area of ​​the coast are also causing environmental problems, because they are close to the sea. He added that the rest of the waste from the party at the beach club was scattered in the sea to pollute the sea.
"With this, we earnestly ask the government to quickly create strict regulations and impose strict sanctions, with close monitoring by Satpol PP. We cannot remain silent, because our beautiful island of Bali is still we can survive together. it is sacred for the rioters to wipe them out because of their financial business only to meet the needs of thousands of other people and the 'fundamental human rights' of the majority of people to rest," the petition asked.
(ie/mother)


[Gambas:Video CNN]