BTS' V surprises fans by becoming an ambassador for Indonesian investment platform SimInvest
Sinarmas Sekuritas, a leading securities firm based in Indonesia, has appointed BTS' V (Kim Taehyung) as the newest brand ambassador for SimInvest, a stock and mutual fund investment platform.
As of today, SimInvest officially has a new beast!

In the future, V will be with you to accompany your investment journey at SimInvest.#MyInvestmentMyChoice#SimInvestxV pic.twitter.com/K5DKQdLnze

— SIMINVEST (@siminvest_id) March 1, 2023
The deal was facilitated by Gushcloud International, a global tech-focused developer and entertainment company, through Gushcloud Korea.
SimInvest has partnered with V to lead their financial services company's latest campaign, which aims to pitch Indonesian Millennials and Gen Z forward-thinking investment solutions to secure "a brighter financial future," according to the brand.
When asked why they chose Taehyung, SimInvest highlighted its popularity and success.
"The reason is clear, we see V as he has his own activities, Instagram records, career paths, hard work, records, everything. Great. » – Ferita Lie, Commissioner-President of Sinarmas Sekuritas
"BTS V's passion, talent, creativity and energetic personality make him the best representative of SimInvest's services to the younger generation. We look forward to creating meaningful projects together." added the President and Commissioner of Sinarmas Sekuritas, Ferita Lie.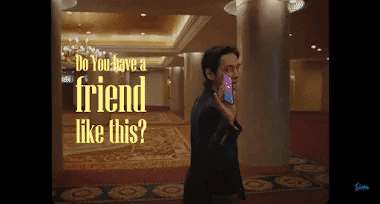 The announcement was accompanied by the release of a new commercial starring the kpop icon star.
According to the brand, the partnership comes with a surge in appreciation of Korean pop culture among the younger generation, led by 21st-century pop icon BTS.
During their press conference, SimInvest also cited iPrice's 2021 report, which indicates that Taehyung is the "bias" or the most popular member in the Southeast Asian region, reaching 26% of Google searches.
Following the announcement and commercials, Taehyung took over social media and occupied the top 4 trends on Twitter, with #TAEHYUNGxSimInvest topping global trends.
In addition, a fan meeting with Taehyung is planned with HYBE, which is expected to take place in South Korea next June. More details will be announced later.
Twitter was full of fans praising V and congratulating him on becoming SimInvest's newest ambassador, while others couldn't forget the iconic images of the idol for the ad.
In addition, many fans were particularly surprised by the announcement and expected V to become an ambassador for a major luxury brand. Some of the fan comments include:
"It's funny how everyone expected Taehyung's first solo brand deal to be in vogue like the other members, just like it was in finance. Taehyung is so unpredictable. »

"I didn't expect Taehyung's first solo brand deal to have anything to do with finances, but he looks so charming in the commercial! Please give international fans the chance to attend the fan meeting! »

"Congratulations V! He's so in demand. Taehyung is so beautiful and charming. Omg fan meeting in June! I wish I could go there. »

"He has all the cards, but he won't put them all on the table. I know that we will see more surprising projects in the next few days. »

"There's still that thing he filmed in Paris, I have no idea what it could have been. This month will be very busy for us. We look at Seojin's kitchen, a brand new contract, and then the new things he's likely alluding to. »

"It's only been a day and they've already done so much for Taehyung that I'm so excited! Taehyung is truly unpredictable at best. He really does everything that makes following so much fun for the fans. I have no doubt that diversifying his reach and interests will have great benefits when he decides to release music. I'm glad he did that because personally I don't think bighit will be promoting his album so it's good that he's expanding his reach and finding new audiences in other ways. »
Congratulations V!