BTS' Suga reveals the harrowing truth behind the lyrics to his track 'AMYGDALA'
Suga released his album "D-Day" on April 21st and it's already breaking sales records!
D-DAY, Agust D's third release, follows his self-titled mixtape from 2016 and D-2 from 2020. Means, be it a blessing or a curse.
To coincide with the release of his album, Suga also released the documentary "Road to D-Day" with Dsiney+.
The documentary featured his "journey to find new stories and inspire new dreams" while creating his solo album.
One particular scene involved the process of writing his new music, which fans may recognize as a behind-the-scenes moment from Season 2 of BTS's In The Soop.
Jimin enters the RV while Suga works and records new music.
"Jimin: I heard you recorded hard.
Suga: Yeah, I'm almost done. I wrote the lyrics
At the time, Suga was in the process of writing the track "AMYGDALA".
Suga then plays it to Jimin and reveals it's one of his favorite tracks so far.
Suga then explains the lyrics and shows how important they are to him.
"There is something called 'amygdala'. Your brain stores all of your unpleasant memories in the amygdala. »
The amygdala stores sad or uncomfortable memories to protect you from those situations in the future.
"So you can prepare for such situations in the future. »
The lyrics refer to various difficult moments in the artist's life, such as his accident, his mother's operation, his father's cancer…
"I have massive mood swings every time I work on this song. To work on this, I need to conjure up some of my uncomfortable memories. »
Suga explains that he doesn't want to run away from these memories, he wants to face them.
"But it's actually a very important process to learn to control those memories. »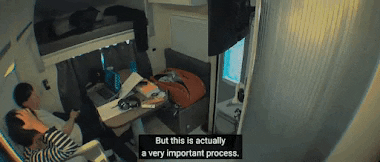 While presenting himself as a lotus flower, Suga shows his strength by "blossoming" in unfortunate situations.
The fans were very touched by these words, as were we.