BTS' Suga and SEVENTEEN's Woozi talk about the pressures of being producers for their group and other artists
The latest episode of Suga's Suchwita caught the attention of SEVENTEEN fans as it introduced a long-awaited guest: SEVENTEEN's Woozi.
The two artists shared their striking resemblance and even suggested a collaboration.
Aside from their physique, the two idols are similar because they are both music producers.
First of all they obviously produce for their own bands and themselves. Contrary to what one might think, it's not easy.
Being a producer wasn't a title that Woozi took lightly.
He admitted: "The way you said it sounds like a great thing, but to be honest the producer title still seems like a burden. »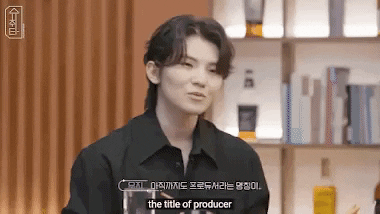 Despite Suga's positive words, Woozi explained why he said that:
"I never wanted to be the producer of this team. » It was his original goal "Support members from behind and make them shine more" for their individual talents. Unfortunately, that turned out to be different.
In fact, the group's agency, Pledis Entertainment, used this as a marketing product, referring to "self-producing idols" who pressured Woozi.
Woozi confronted the company with this:
« The agency said they were toning things down so it wasn't too much. But we are now in our ninth year and still being referred to as "self producing idols".
Also, the idols spoke about the reactions of other members of their groups to their productions.
Woozi revealed that the members of SEVENTEEN were "very harsh about describing their impressions. »
Woozi simply portrayed how SEVENTEEN members react to a song they don't like. In addition, there are many of them, so tastes differ from one member to another.
He said: "If they don't like a song, 'I don't feel it.' They say things as they are. »
On the other hand, Suga revealed that BTS members are less direct. He said: "Because there are seven of us, we tend to say, 'It's okay if someone doesn't like something. Let's do it. »
Suga therefore admitted that it was much more difficult for Woozi, who had to please twelve other members.
Woozi and Suga aren't just producers in their own right. In fact, their talents are recognized in the industry and they write songs for other celebrities.
Suga revealed that working for others can be particularly difficult.
The BTS member asked Woozi if he wanted to work for other artists besides SEVENTEEN.
"I slacked off a bit after my debut. A few but not many. I worked with people I was very close with or when I had a very good offer. If it isn't, I can't do it. » -Dizzy
Woozi honestly explained that he didn't have time. It's also a big source of stress for him.
"And it's a lot of pressure because I have to focus on SEVENTEEN, which is my main job. » Suga understood perfectly what he meant.
The BTS member also spoke about the pressure he feels on his projects.
"I feel the pressure to do external projects. I mean sure it's fun and fun. But since it's not my song, I think it should work fine. So I can't let go » – Suga
One can imagine the constant pressure they are under as idols and producers.