BTS' Suga and SEVENTEEN's Woozi propose a collaboration by discussing their resemblance
The latest episode of Suga's Suchwita caught the attention of SEVENTEEN fans as it introduced a long-awaited guest: SEVENTEEN's Woozi.
Ever since SEVENTEEN debuted in 2015, kpop fans can't help but compare Woozi to Suga. In fact, you might think they are brothers!
Also, the two like to experiment with their hair, which ranges from pink to mint green.
And quite simply, they look the same!
When Woozi showed up, he brought his own soft drink.
Immediately, the two talked about their resemblance.
"My members kept asking me who Suchwita's next guest was, and when I told them it was you, Woozi, RM said, 'You won't die if you meet? I asked why and he said, "You're two doubles, aren't you?" If one of us collapses while filming…* [*Légende urbaine :
lorsque des sosies se rencontrent, on dit qu'un d'eux
meurt.] » -Suga
Suga compared Woozi to feeling like a younger brother or even looking younger in the mirror!
"Even though I don't have a younger brother, he's like a younger brother. I feel like looking at myself in the mirror. I can see myself in you when I was about 16 or 17. »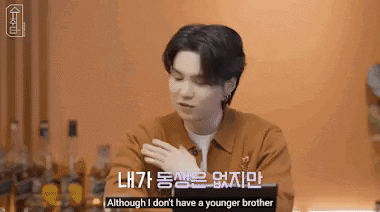 Since the two genius producers would be an unstoppable combination, Suga suggested: "But I think it will be fun if you and I work together. »
Woozi immediately agreed: " I would love it. "
Given their resemblance, Suga added: "Maybe our band name could be Brothers. »
Woozi approved of the idea. He has answered: "That sounds good. I can think of a few things that would be really cool if I did them with you guys. »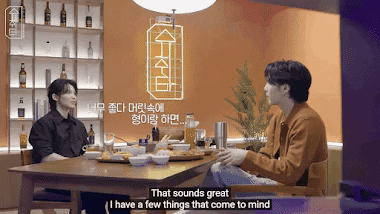 We all want to see this collaboration!