BTS' Jin teaches Coldplay "Aegyo"
The friendship between BTS' Jin and the band Coldplay is well known to fans who love watching their interactions.
Before leaving for mandatory service, Jin released his solo track "The Astronaut," co-written with Chris Martin.
Also, Jin joined the group for their concert in Argentina, where they performed the track together in a moment of pure friendship.
In the latest episode of BANGTANTV, we're treated to some behind-the-scenes footage of this magical moment.
While they were all together, they thanked each other and commended Jin's efforts. Chris Martin even made an effort to learn some Korean to communicate with Jin.
But what caught fans' attention the most was that Jin taught them how to do an "Aegyo" while taking a picture.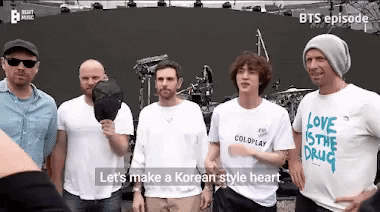 Half heart on face is one of Jin's favorite aegyo poses when photographing, so he really wanted to do it with them. Coldplay members were a bit confused at first, with Martin even trying to make half a heart on either side of his face…
Luckily, they learned quickly and were able to snap an adorable photo together.
So adorable!