BTS' J-Hope previews his BT21 character Mang without a mask
BTS members created fan-favorite little characters BT21, each representing one of the members.
Recently, J-Hope revealed that his character Mang has gotten to the point where he should be showing his face without his mask.
The removal of Mang's mask represents J-Hope himself and represents J-Hope's second chapter as an artist.
"He's a character that I created and he has a little part of me. This character is unlike any other and I wonder if I could make a bigger impact. »
J-Hope then sat down to create Mang's actual design. As with the founding of BT21, an artist sat by his side to help whenever he needed ideas.
J-Hope wasn't sure of his drawing skills, but he started with a really nice…circle!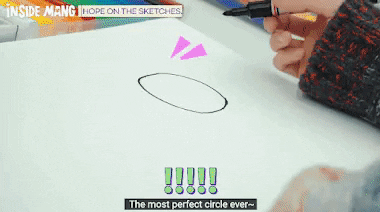 J-Hope really wanted Mang to have a heart-shaped mouth, and he added details depicting his own smile.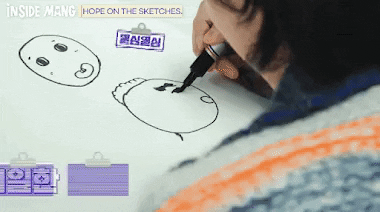 Then an employee gave him the idea of ​​using wings as ears. Although this isn't the final draft of what the ears will look like, J-Hope really liked this great idea.
Next, J-Hope wanted Mang to have "brave" eyes to show his bravery. For what ? Because he has the courage to take off his mask and reveal himself to the whole world!
Mang is therefore a mixture of bravery and…cuteness, as we can see in J-Hope's drawing.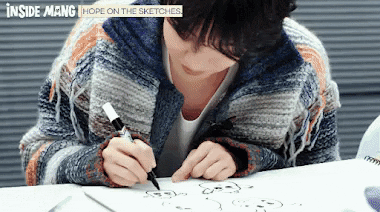 However, J-Hope didn't want Mang to change too much. He will be different, but not very different, so it may be in his best interest to choose a species similar to a dinosaur.
Again, J-Hope insisted on the bold and cool side that Mang must have, something that must be evident in the design.
J-Hope has been experimenting with different ideas that haven't been taken up yet, such as changing the shape of his face…
Or add mustaches…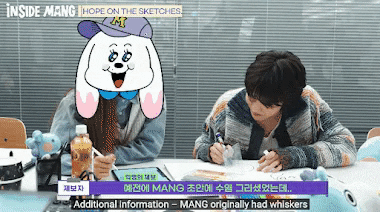 In the end, J-Hope seems to have many ideas for Mang's design, and fans can't wait to see him without a mask!