Blackpink's Lisa reveals her beauty routine for natural everyday makeup
Lisa is one of those idols with incomparable beauty that catches everyone's eyes. The young woman has repeatedly shown the importance of skin care, but what about everyday make-up?
Lisa recently released a new Lili's Film vlog, taking fans on her trip to Paris.
On one of her days off, the idol started doing her own makeup and did a little tutorial for fans who wanted to do makeup like her.
"I'm also going sightseeing today, so I'm only wearing light make-up today." She said.
First, Lisa applied a light base to her face (like a BB cream) and massaged the product into her skin.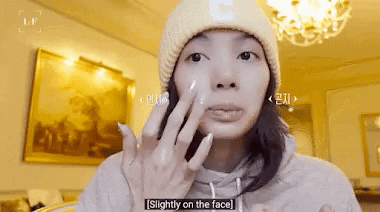 Next, she curled her lashes (which is very important to do before the mascara) and chose a cream blush for her period (applied on the finger).
"I often use cream blush. I'm still new to using them. can you see it I don't think it shows much. oh whatever she joked with a smile.
Next, she applied some highlighter to the tip of her nose.
Finally, Lisa applied a neutral lipstick with a lip brush.
The result is just natural and adorable! And all this in just 5 minutes!
Lisa is absolutely gorgeous and doesn't need more to emphasize her beauty.
The perfect everyday make-up!