Bang Si Hyuk is personally responding to concerns about a HYBE "monopoly" in the K-pop industry
HYBE President Bang Si Hyuk, in an interview with CNN's Richard Quest, has decided to address concerns about a potential "monopoly" or "oligopoly" in the K-pop industry.
HYBE CEO Bang Si-hyuk has been outspoken about his monopoly claims on the K-pop industry after his company became SM Entertainment's largest shareholder through its purchase of Lee Sooman.
In an interview with Richard Quest for CNN on March 3, Bang Si-hyuk also highlighted the news that buying these stocks has the potential to cause oligopoly or affect the industry's market price.
According to Bang Si Hyuk, this is misinformation.
"For example, people say that there will be a serious oligopoly (a state of limited competition) in the music market. But you have to analyze where the music is sold. »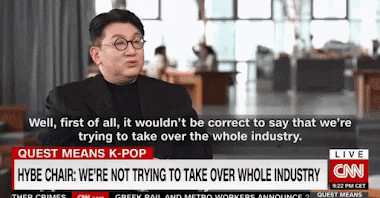 Bang Si Hyuk stated that despite thoughts and sales in Korea, there is no way that the combination of HYBE and SM will monopolize the K-pop industry.
"One might assume that it will be sold mainly in Korea, excluding all international orders, even by buying companies, since all CDs sold in Korea, both SM and HYBE together, are very difficult to monopolize the market. »
Richard Quest then came up with the idea of ​​HYBE acquiring shares as a "hostile deal" with everyone wanting different things.
As always, Bang Si Hyuk got to the point and explained:
"I think it's crucial to get the terms straight first. In economics, this basically describes the case in which a company is collected on the market against the will of a large or oligopoly shareholder. However, we took over their participation with the consent of the major shareholder as part of due process. »
Bang Si Hyuk then discussed internal issues at SM Entertainment. Bang Si Hyuk thinks a general assembly is necessary and could help solve SM's problems.
"Only when the support is there can we form the board we want. I've long been saddened that a good company like SM doesn't have a good governance structure.
With the acquisition of shares at that time, we almost solved the governance problem. And HYBE is known for helping artists to be successful only in the management process, without touching their autonomy of their artistic originality. »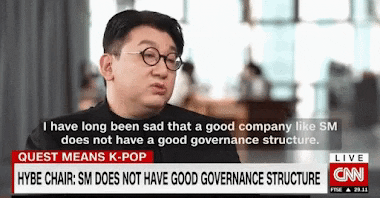 Finally, Bang Si Hyuk revealed that he knows many people are eager to see HYBE's impact on SM entertainment.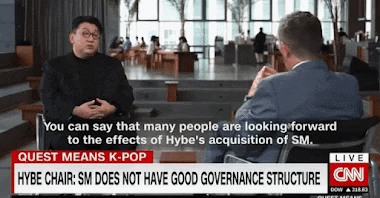 We don't yet know what the future holds for the agency and its artists, but we hope it will be positive and no additional difficulties.
What do you think ?