Bang Chan speaks to Music Bank in Paris, Stray Kids frontman apologizes for his words
Several International Stayers have targeted girl group IVE after hearing Bang Chan's thoughts on the Music Bank Festival in Paris.
On May 15th, Stray Kids' Bang Chan started his regular live stream "Chan's Room" to engage with fans. During the session, the male idol recalled memories in Paris and the Music Bank that took place in April.
In particular, Bang Chan has publicly expressed his opinion on allegedly rude behavior by a new generation idol group. In particular, he shared that he greeted a group but they did not return the greeting.
This led to Bang Chan being disappointed that today's idols do not see greetings as a basic courtesy.
"'Music Bank in Paris' was good. It was fun because we haven't been to Paris in a long time. We also had the opportunity to work with many talented artists. It was great. » he explained.
Reminiscing about his time in Paris and the Music Bank, the Stray Kids frontman suddenly became serious and frowned slightly as if remembering a bad encounter.
The singer began to speak cautiously: "I might sound like an old man saying that because all generations are different. But… I feel like we've reached a point where greeting someone is no longer considered a polite gesture. »
The Stray Kids frontman continued: "I don't insult anyone. It's just… I mean, maybe I'm thinking too much, but… when you walk by someone, you say hello, don't you? »
"But if they didn't answer you, they would say, 'What is that…?' Well, okay.' because there are several situations where that could happen. »
He continued : "The more I thought about it, the more I asked myself, 'Is today's K-pop generation allowed to do this?' I don't know. They might have been shy because we're not close, but it might have to do with a generational difference and I think I have to live with that." then he laughed.
Fans demanded the names of this "rude" group of hoobaes (juniors), who ignored him. BANG CHAN laughed and said he wouldn't name names, then changed the subject.
After the livestream, fans became outraged at "that Hoobae group" and began to make their own guesses.
K-pop groups that participated in Music Bank in Paris 2023 include Stray Kids, ENHYPEN, P1Harmony, CRAVITY, AB6IX, THE BOYZ, MAMAMOO, NMIXX and IVE.
Of all these bands, fans have targeted IVE for " Not having greeted BANG CHAN« .
BANG CHAN never mentioned the name of the group or its members, but for some reason fans just assumed that the Hoobae group he was talking about in his livestream was IVE.
Since then, IVE has been targeted by many international fans and caught the attention of Korean netizens. The reason for this was that Bang Chan's thoughts on greeting culture were apparently aimed at someone from a junior idol group. In South Korea, the relationship between sunbae and hoobae can be difficult for Koreans from a young age.
Netizens have pointed out that the singer has started a "witch hunt" within his fan base. In fact, in every country, regardless of generation, greeting is an important courtesy and a common culture. But in Asia, and particularly in Korea, it is taken seriously.
However, on May 16, IVE fans released a video to dispel the rumors circulating. In the video, it looks like the girl group was busy greeting their fans and didn't realize Bang Chan was greeting them.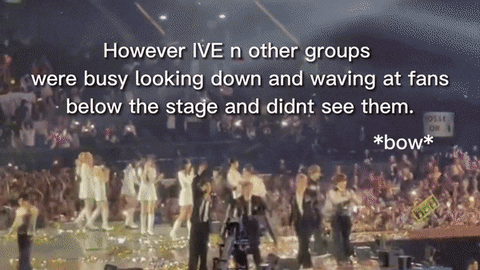 However, Yujin from the IVE noticed and was about to exchange greetings. However, he left too soon.
This situation has garnered so much attention that the topic has become a hot topic in Korean online communities.
Since IVE is a more popular group than Stray Kids in South Korea, netizens turned against it Bang Chan, they wrote:
"Isn't he a stranger?" Why is he so obsessed with greetings? He's just power hungry. »
"People don't want to say hello to the sunbathers they hate, you know? »
"From berating the member who left the school, to supporting the member responsible for the school violence, to chasing down their hoobaes. Can someone stop him now? »
"Did you see your fans being so relentless and cruel in harassing others because you said something, and then you said something like that again…? »
"He said it in a way that makes his fans hate other people. It's really not cool; »
"Why is he telling his fans this? He must have a lot to say about his Parisian fans, but…"
"Why are his fans only after female idols? ㅋㅋ This is bloody annoying. »
"In his group, a member is involved in violence at school, so he's not allowed to talk about who greeted him or not. Also, this band and their fans are like singers and thug fans…"
"I think it was impolite of him to comment on such a performance unless he was consciously trying to be specific. »
"They have a member in their group who torments girls, so their fandom only torments girls. Like a singer, like a fan. »
"Does his fans not care if this group isn't in a good mood?" Hahahahahahahahahahahahahahahahahahahahahahahahahahahahahaha
"This group of female idols is pathetic. International fans please don't hate female idols!! "
"He's a celebrity so he knows how scary hate comments can be. Why bring all the hoobaes together to be offended? Even though he joked about waving at them when they saw him walking past, he would still have come across as very rude. So I'm wondering why he felt it necessary to go so far? Why is he trying to incite hatred towards such young idols? Sigh. »
"But it's weird that they mention Music Bank now when it happened a month ago like they were waiting for it. ㅋㅋㅋㅋㅋㅋㅋㅋㅋㅋㅋ »
"Seriously, instead of not saying hello to stray kids, they obviously didn't because they were just too far away… I don't think anyone would have noticed them from that distance, and that's not the case. It's not like they were standing still and busy greeting their own fans. Isn't it obvious that they might not have seen Stray Kids…
And it all boils down to the fact that the timing of their greeting didn't match. Why would they go so far as to insult IVE? I don't understand. At the same time, international cockroaches are constantly overreacting to everyday things. »
"It was such a big stage with a lot of noise and a chaotic setup, they were busy greeting their own fans so of course it's possible you didn't see them. And it's not like Stray Kids mentioned anything about IVE either.
Even if they were the ones Stray Kids had in mind, in this situation it would be entirely plausible that they didn't see them and the timing was bad. »
"But IVE wasn't mentioned at all so there's no reason to think they could be, although some comments seemed so sure it was IVE.
This Stray Kids member hasn't even mentioned IVE, so why are these international roaches banging on IVE? Can anyone explain to me? Why are there comments so sure it was IVE? »
---
On May 18, Bang Chan apologized via Instagram, writing: "Hello, this is Bang Chan from Stray Kids.
I apologize for the issue caused by the comments I made during a recent live stream.
I thought about the impact my words and behavior can have on others, and I thought deeply about myself. »
"I would like to mention that it was not my intention to name a specific artist and my comments had nothing to do with the currently named artist.
I would like to sincerely apologize to the artist who was hurt by my careless words. I sincerely apologize. »
"I'll be more careful with my words so something like this doesn't happen again.
I would like to sincerely apologize again. »
What do you think?