A rain of worms falls in Beijing, China
A video showing cars covered in worm-like creatures caused an internet stir, with many people assuming the worms fell from the sky.
The video, believed to have been taken in Beijing, China, shows several parked cars that appear to be covered in slimeworms.
The video, along with the caption "worm rain," was shared widely on social media, leading many to believe the creatures were the product of an unusual atmospheric phenomenon.
However, some people have come up with other theories. The Mother Nature Network's Scientific Journal suggested the worms may have been swept away by a small tornado or emerged from thawed ground as spring approached.
While some have interpreted this event as a sign of impending doom, others are convinced that there is a scientific explanation for this strange phenomenon.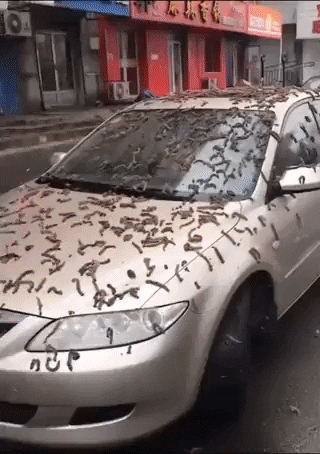 "The end of the world is near" A Twitter user commented on one of the clips.
Residents are asked to bring umbrellas
Beijing residents have reportedly been asked to bring umbrellas when leaving their homes, according to El Heraldo.
The footage shows residents going about their daily lives with umbrellas to protect themselves from falling worms.
Although Chinese authorities have yet to release the actual cause of this strange occurrence, online speculation is beginning to develop.
Poplar blossoms are a possible explanation
A hypothesis circulating online suggests that the "worms" seen in the viral video are actually poplar blossoms.
Very common in China, these flowers are often filled with seeds that can look like caterpillars when falling.
Poplar flowers that grow on trees are recognizable by their cylindrical and oblong shape, and they usually bloom between February and March.
The flowers' pendulous branches can be a range of colors depending on the season, and their fruits are clustered in elongated capsules that release seeds covered in white hairs.
It's not the first time
Norwegian biologist Karsten Erstad was amazed when he encountered thousands of earthworms while skiing in April 2015. Despite his expertise in the animal kingdom, he was initially taken aback by the sight.
With 50cm of snow covering the ground, he doubted the worms could have been pushed from below as they were unlikely to be alive in the freezing conditions. Instead, it looks like the worms fell from the sky.
Erstad estimated there were up to 20 worms per square meter. He said he found them motionless in the snow before realizing they were still alive. Norwegian media picked up the story, and other reports confirmed the event.
A similar event was recorded in the Scottish Borders in 2011. David Crichton, a physical education teacher, was supervising a group of sophomore boys when they heard a bang on the artificial turf pitch.
Looking up, they saw dozens of worms raining down from above. Crichton, then 26, and his colleagues at Galashiels Academy were puzzled by the event.
They later discovered more worms on a tennis court about 100 meters from where they were originally found.
"We started hearing this little beat. There were about 20 worms on the floor." said David at the time.