A program takes stock of the Garam affair (formerly LE SSERAFIM)
The group LE SSERAFIM got off to a controversial start, particularly with allegations of school violence against Garam.
As a result, Source Music officially announced on July 20 that Kim Garam was leaving the group. So LE SSERAFIM became a group of five members.
On May 15, an episode of Free Doctor brought up the topic of Kim Garam when they discussed allegations of bullying among kpop idols.
The show came back to the charges against Kim Garam. According to one of her classmates, the idol tended to spend time with people with bad intentions.
She and her friends had banded together against students and insulted and bullied them on social media.
The show revealed that HYBE would respond quickly, stating: " School bullying allegations are malicious rumors and not true. We have confirmed, thanks to the testimony of a third person, that Kim Garam was indeed a victim of bullying at school. »
The topic really exploded when a photo of Kim Garam was posted on May 2, the day of the group's debut.
In the photo, the girl can be seen making inappropriate gestures and posing in front of a board with an obscene remark.
However, that's what one of the show's reporters said "It's not like (Kim Garam) forced anyone to draw that or teased anyone with it, so it has nothing to do with his allegations of bullying. »
Shortly thereafter, a new netizen defended Kim Garam, claiming that she had in fact protected her friend whose nude photos had been leaked online.
According to this person, Kim Garam did not intimidate anyone.
The show then revealed that there was evidence that bullying actually took place.
A document sent to the school by an anti-bullying committee lists Kim Garam's name as the perpetrator and says the former idol has been punished for bullying at school.
The document indicates that Kim Garam received a 5th grade sentence, which means she has to complete mandatory psychological sessions, and the information remains on the student's file for two years after her graduation.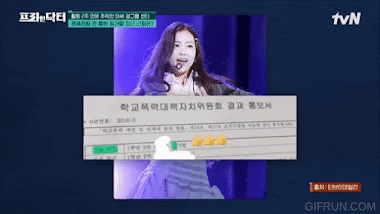 After this document was shared, Kim Garam left the group just a few months into his career.
What will become of her? The show revealed that she had resumed her studies at "S" Art High School.
What do you think ?