A man stormed over a viral video of him licking a bottle of soy sauce
A man was arrested for allegedly licking a bottle of soy sauce off a table at a conveyor belt sushi restaurant in Nagoya and then posting the video online. He was charged Tuesday with obstructing business operations.
The case of Ryoga Yoshino, 21, is believed to be the first case in which a customer has been arrested for such behavior after similar acts came to light at restaurants in Japan earlier this year.
Two other people were arrested in connection with the incident at a Kura Sushi Inc. facility in the central Japan city. One was released Tuesday pending further investigation, while the other was placed on probation.
According to his lawyer, Kenichi Tamura, Yoshino apparently thought he too had to jump on the bandwagon when he began the crime, with videos of similar pranks and tricks flooding social media.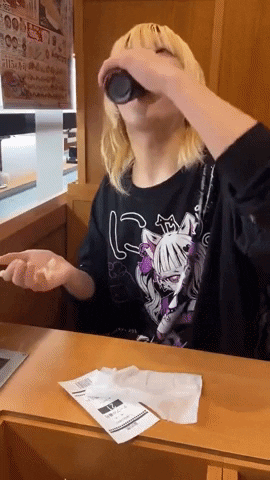 But when the video went viral and sparked backlash, Yoshino felt "distraught" and didn't realize he had committed a crime until he was arrested, Tamura said.
The young man admitted his mistake during detention and he hopes to apologize to the operator of the sushi restaurant chain when the opportunity arises, the lawyer added.
Kura Sushi said he had nothing new to say about the incident, before adding: "We sincerely hope that the public has understood that this public harassment is a crime and that such acts will not be committed in the future."
After the industry was rocked by a series of incidents in which customers licked table condiments and engaged in other unhygienic behavior, the operator of the sushi restaurant chain installed artificial intelligence camera systems on its restaurants' walkways.